Randy Steinberg, conductor
Randy Steinberg, trumpet, piano and bass clarinet player, received his musical education at Roosevelt's Chicago Music College in Chicago, Illinois. Randy started out as a high school band band director, later changed careers and is Director of the Northwest Concert Band, which he conducts. Randy is also a prolific composer having written numerous works for concert band, jazz band, brass band and many works for brass ensembles that are published and played all over the world. Having taken over from the band's founding director, Ralph Wilder, Randy is honored to be leading such a talented group of musicians!
Greg Mullen, assistant conductor
Assistant conductor Greg Mullen has played clarinet and saxophone since elementary school.  He has performed in concert and jazz bands as well as in musicals. Greg began his professional career as a high school band director and private teacher in Niles. After that he was a school principal in Highland Park for twenty-two years before serving as assistant superintendent and music supervisor there for fourteen years. Greg has been in the Northwest Concert Band since 2004 where he is the principal clarinetist.  Also an avid jazz player, he has played clarinet and saxophone in the Reunion Jazz Orchestra in Niles since 2001.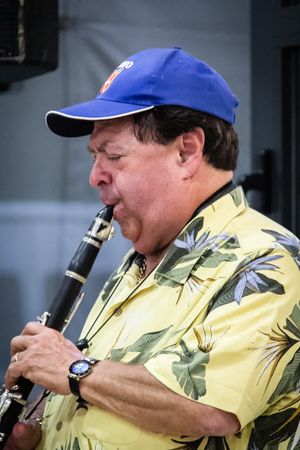 In Memoriam 
Ralph Wilder
1944 - 2022 
Our founding conductor, inspiration, and driving force, Ralph Wilder passed away in March, 2022.  He received his bachelor's and master's degrees in clarinet performance and education from Northwestern University and began his career as bandmaster in Texas before holding the same post at Prospect High School in Mount Prospect, Illinois.  His life in music included having is own orchestra, playing with various orchestras in the region, most notably as principal clarinet in the Evanston Symphony Orchestra and the Maxwell Street Klezmer Band.  Ralph was versatile playing various clarinets from the bass to E-flat instrument, alto and tenor sax and flute.  He was a great jazz improvisor.  In addition to many private students, he also taught at North Park University.  As conductor of the Mount Prospect Community Band, he led the group to England, France, and Italy (twice).  The band hosted groups from France and Italy in return. 
Several years ago, Ralph suffered a catastrophic injury while at a rehearsal.  Unfortunately, he could not recover from the accident and died of complications from it.
For an extended obituary, please click here.